May.29.2010
6:19 am
by Ed Beakley
I think ordinary Americans do a pretty good job remembering  our vets and in  particular, those who have given their lives in service of this country.  I like hearing the stories about folks in airports recognizing those in uniform as they return home.  But its always been important for me, on a very  personal level to recall the stories of friends who didn't come home, stories of some who did some pretty interesting things in service of country, and of those whose time has passed but will never be forgotten.  And so over the last few years I've used Project White Horse on these special days to provide their stories for readers and for my own reflection and a way of saying "thanks".  A man, a woman live on as long as they are rememembered.  
This year, something a little different – a carve out from the short story Testimony of Pilot by  just recently deceased Southern writer Barry Hannah.  The central character, Ard Quadberry, is Hannah taking literary liscense with his long time friend John Quisenberry, who is a USNA grad and Vietnam time frame fighter pilot in F-8 Crusaders.  'Quiz' schooled me in the F-8,  is a long time friend, and gave me an early copy of Hannah's Airships in 1971.
While the scene involves a Navy fighter pilot, for me, it represents the process of going to war.  The fighter, the helmet only story telling vehicles. Ard Quadberry is airman, sailor, soldier, marine.   In a few words this excerpt captures the sense of what young men and women feel and must do as they steel themselves for war.  Further, Liliian's words reflect the confusion, the sense of helplessness and loss and sorrow of young wives and girl friends as they observe those they love make that transition, moving away- physically, mentally, emotionally – compartmentalization being necessary for survival.  And all the while, underneath it all is the heightened recognition of love of country and insight about America and being an American in service of country that comes with offering all in war. These few words are the essence of Memorial Day for me.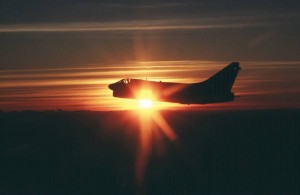 A-7 from VA-56, USS Midway over North Vietnam, 1972
 Through Lilian I got the word that Quadberry was out of Annapolis and now flying jets off the Bonhomme Richard, an aircraft carrier headed for Vietnam. He telegrammed her that he would set down at the Jackson airport at ten o'clock one night. So Lilian and I were out there waiting. It was a familiar place to her. She was a stewardess and her loops were mainly in the South. She wore a beige raincoat, had red sandals on her feet; I was in a black turtleneck and corduroy jacket, feeling significant, so significant I could barely stand it. I'd already made myself the lead writer at Gordon-Marx Advertising in Jackson. I hadn't seen Lilian in a year. Her eyes were strained, no longer the bright blue things they were when she was a pious beauty. We drank coffee together. I loved her. As far as I knew, she'd been faithful to Quadberry.
He came down in an F-something Navy jet right on the dot of ten. She ran out on the airport pavement to meet him. I saw her crawl up the ladder. Quadberry never got out of the plane. I could see him in his blue helmet. Lilian backed down the ladder. Then Quadberry had the cockpit cover him again. He turned the plane around so its flaming red end was at us. He took it down the runway. We saw him leap out into the night at the middle of the runway going west, toward San Diego and the Bonhomme Richard. Lilian was crying.
"What did he say?" I asked.
"He said, 'I am a dragon. America the beautiful, like you will never know.' He wanted to give you a message. He was glad you were here."
"What was the message?"
"The same thing. 'I am a dragon. America the beautiful, like you will never know.'"
"Did he say anything else?"
"Not a thing."
"Did he express any love toward you?"
"He wasn't Ard. He was somebody with a sneer in a helmet."
"He's going to war, Lilian."
"I asked him to kiss me and he told me to get off the plane, he was firing up and it was dangerous."
"Arden is going to war. He's just on his way to Vietnam and he wanted us to know that. It wasn't just him he wanted us to see. It was him in the jet he wanted us to see. He is that black jet. You can't kiss an airplane"
"And what are we supposed to do?" cried sweet Lilian.
"We've just got to hang around. He didn't have to lift off and disappear straight up like that. That was to tell us how he isn't with us anymore.''
Post script: For Marie Rossi,  Pat Patterson, Sam Dorn, Gary Shank, Smokey Tolbert, John Lindahl, Gene Goodrow, Mike Bixel, Mike McCormick,  Ray Donnelly, Arlo Clark, Harry Hicks, Chuck Andres, and Randy Anderson.  You live on -  Great Santini's all.
Filed in Fly Navy-100 Years,War and Remembrance,What Kind of War | Comments Off