Mar.18.2009
by Ed Beakley
When I wish to give battle, my enemy, even though protected by high walls and deep moats, cannot help but engage me, for I attack a position he must succor

The enemy must not know where I intend to give battle.  For if he does not know…he must prepare in a great many places…And when he prepares everywhere he will be weak everywhere.    

 The Art of War …Sun Tzu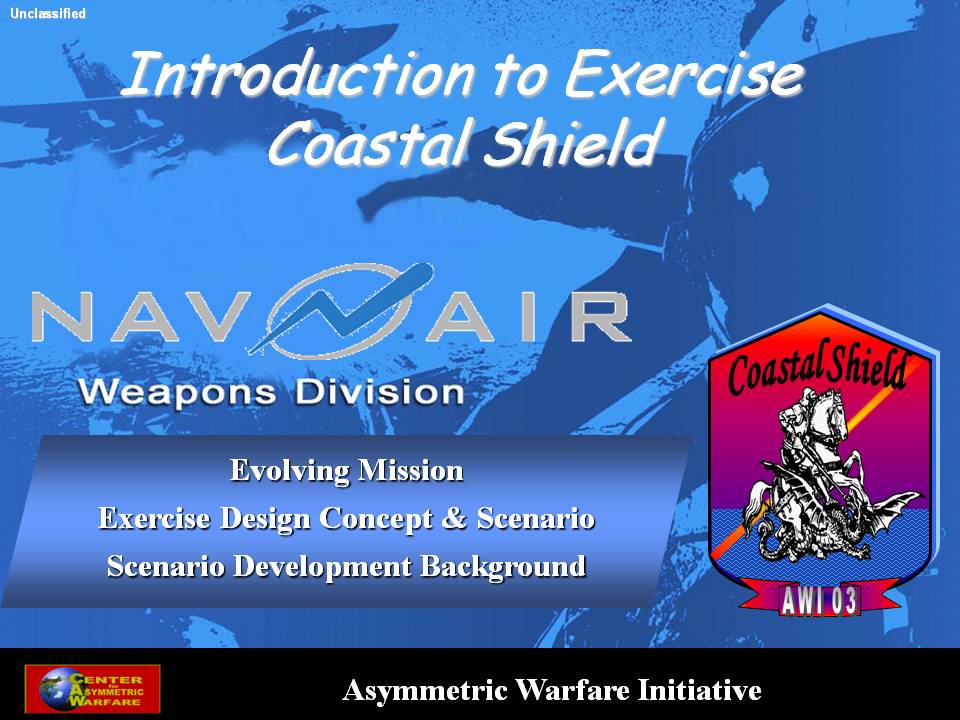 Ventura County Exercise "Coastal Shield" (AWI 03) was based on a Maritime HLS/HLD scenario, and was intended to explore inter-agency interactions and issues before, during, and after a terrorist attack on a U.S. Harbor.  Education and training intent was to increase the local capability to respond to an asymmetric threat, including weapons of mass destruction.  Further, it provided learning opportunities as the tactical level both drives and is driven by operational level orientation and decision in an uncertain environment.
 The Center for Asymmetric Warfare at Point Mugu California in conjunction with multiple federal, state, and local agencies planned and conducted the event In Nov 2003. Participants included military and local/state/federal authorities.  
 Top level design issues
 To reach the exercise goals, a story line and operational scenario had to be researched and developed.  A plausible scenario and exercise must consider both credibility of the threat as presented and also the ability to execute the representative situation in a non trivial but safe manner.  The following were the overall design/development criteria:
Create problem areas related to port environment vulnerabilities that will stress existing Tactics, Techniques, and Procedures
Provide an opportunity to bring together agencies specifically in the maritime environment to share intelligence and data about imports and exports, crews and passengers coming into the ports
Provide the basis for identification of interoperability issues between maritime agencies and systems and those of other agencies
Provide a dynamic crisis, the response to which, requires decisions in light of great uncertainty on multiple levels, and requires consideration across federal state and local areas of responsibility
Create need for armed response, defense, and containment requiring multiple law enforcement agencies with need for military support
Provide a dynamic environment for "first responders" that includes not only the disaster elements but also, aspects of uncertainty related to the possible continued terrorism threat
Story development considerations
Reality representation

           While the ability to identify aspects of U.S. infrastructure, facilities, high value, or major impact icons that could be considered of great interest as terrorist targets, or to just note major vulnerabilities, is not particularly difficult, designing an exercise around an act(s) of terrorism, especially one with live play, is considerably more difficult.  Some very plausible attack modes can be played only in a "what-if" simulation or tabletop exercise context (such as the events of September 11).

Representation of Threats and Open Source Intelligence Sources

            While it would be most desirable to have the exercise create an exact replication of expected threats, many factors mitigate against this.  Short of the real thing then, the desire is to create problems that illicit or force responses very close to those that would be demanded in facing the real world problem.  Research in this area very quickly moves into classification levels not easily handled in an exercise crossing federal, state, and local agency lines.  For this reason the background used for developing the basic story line (detailed planning is anticipated to address classified information as appropriate) was mostly open source, partially summarized as follows:
Specific Requirements
The story and time line provided a basic starting point for development of the actual intelligence-based exercise narrative supported the exercise design goals listed above, and the participant developed specific aspects of the exercise:
1. Basis for evaluation of intelligence flow from national levels to state and local authorities
2. Allow for intelligence up from local investigations of suspect organizations or personnel operating covertly in the U.S.
3. Basis for correlation/collaboration at the state and local level such as the LA County Terrorism Early Warning Group and the Ventura County Terrorism Working Group along with local FBI and NCIS
4. Provide a significant enough concern for the State of California that a immediate "operational review" of Standard Operating Procedures, Contingency Plans, Crisis Checklists, status of emergency resources, etc. would be called for
5. Provide the rationale for positioning or level of alert for various units or agencies participating
6. Provide a plausible threat level that would require multiple Emergency Operations Centers to stand-up at approximately the same time
7. Create a threat basis that would also require stand-up of a Unified Command post in the Port Hueneme Harbor area and possibly other places
8. Provide a basis for a US Navy combatant to be in port at Port Hueneme as the exercise begins (may or may not be threat level related)
9. Further provide the basis for requesting that a Mobile Security Group team be dispatched for Force Protection
10. Provide the background for the shipping into Port Hueneme including the terrorist capabilities and weapons available to include the basis for WMD events
THE STORY
"We know ports present optimal targets to terrorists…The October 2002 report by Gary Hart and Warren Rudman demonstrates that our ports remain especially vulnerable…The report points out, 'only the tiniest percentage of containers, ships, trucks, and trains that enter the United States each day are subject to examination – and a weapon of mass destruction could well be hidden among them.'…The Hart-Rudman report recommends revising transportation security because 'the vulnerabilities are greater and the stakes are higher in the sea and land modes than in commercial aviation'…While often out of the public eye, ports across the United States are our nation's economic gateways. Every year U.S. ports handle over 800 million tons of cargo valued at approximately $6oo billion.  Excluding trade with Mexico and Canada, America's ports handle 95 percent of U.S. trade.  Two of the busiest ports in the nation are in California – at Los Angeles / Long Beach and at Oakland…We must be better prepared for a terrorist attack than we were last year."
Floor Statement (excerpts) by California Senator Feinstein On the Maritime Security Act, November 14, 2002
Possible Terrorist Intentions 
An attack on any of the nation's 361 seaports is in effect an attack on all.  Any stoppage or slow down of commerce into or out of these ports would have major economic implications for the country.  A single attack would create immediate need to increase all modes of security and adjust all aspects of day-to-day operations in every port.  A multi-port focus (swarming tactics are considered routine attack concepts in most analysis of Al Qaeda operational planning structure) would most assuredly create significant issues for the work force by severely restricting their access to the work place or in absences created by concern for personnel safety.
The following present plausible intentions of terrorist planning 
1) Create havoc in the civilian population by attacking the US Homeland
2) Disrupt import/export trade by shutting down a major port with severe impact to the economy
3) Force a disruptive amount of focus on Homeland defense thus requiring additional forces in the Homeland, thereby tying up forces that could be employed elsewhere.
4) Diversion for inserting terrorist teams & weapons of mass destruction (WMD) within the US
5) Insertion of "operations team" to execute plan created by long-term teams already in the U.S.
Possible Mechanisms
The following are potential attack modes and were considered in building the basic scenario.  It was never the intention to have AWI 03 include all, but decision makers, forced to address an imminent threat would have to consider this list and more based on the intelligence inputs.  Normal day-to-day events might appear as indicating terrorist activity.  Orientation to the problem and "seeing" patterns could be extremely misleading.  The overall structure of the exercise must create possible misdirection.
>Threaten multiple ports / create diversions
>Use of a terrorist controlled merchant ship, which either docks normally with the terrorist team onboard with possible WMD mechanisms or rams into a pier area in the target harbor with WMD or explosive devices
>Off load of terrorist teams off shore
>Under the diversion of the chaos, one or more vehicles attempt to break out of the harbor area into normal traffic.
>Mining or sinking a large vessel in the harbor's narrow channels, effectively closing down the port.
Story and Timeline 
The overall notional story line began in Nov 2003 with decision by the al-Qaeda majilis shura directing the military committee to push all planning for attacks on the U.S. into high gear.   In an attempt to regain the strategic initiative and insure continued support from other radical Islamic organizations, the military committee begins developing attacks employing means most feared by American citizens – weapons employing chemical biological, radiological, or nuclear materials.  Further, the committee selects the 361 U.S. ports as a target set that would have most severe impact on American economy.
Using Islamic Militants Trained For Sea Attacks (Source: "Islamic Militants Trained For Sea Attacks," Reuters, 21 January 2003), concern grows over threats to shipping and ports.  In fact, The Maritime Intelligence Group, a Washington-based think tank, said members of a Southeast Asian Islamic militant group, the Jemaah Islamiah, had been trained in sea-borne guerrilla tactics developed by the Liberation Tigers of Tamil Eelam (LTTE), one of the world's most feared rebel armies.  Jemaah Islamiah has been linked by the Singapore government to al Qaeda.  "We know that Jemaah Islamiah has benefited from the capabilities of the LTTE," Kweilen Kimmelman, a senior analyst at the Maritime Intelligence Group, told a conference on shipping security.
Given the nature of the traffic in the Ports of Los Angeles and Long Beach, and given the fact that U.S. Navy ships have been observed in port prior to test and evaluation or training missions in the sea range off of Point Mugu the terrorist planners recommends that port Hueneme become a future target with opportunity to both impact U.S. economy but also to damage or destroy a high value Navy combatant.  This approach might create enough diverse problems to allow both ports to be attacked successfully.
 Various pieces of this story were fed to the intelligence elements of the local LE organizations starting about 60 days prior to the actual exercise.
Basic Live Events for 4-6 Nov
USS "TBD" in port
Intel indicates heightened threat
Situation warrants request & transport of Navy Mobile Response Team by ANG to be in-place on 4 Nov
Intel sufficient to stand up multiple EOCs on Tue 4 Nov
Unified Command Post established
Explosion involving Chlorine tanks occurs on civilian side of co-use civ-military Port Hueneme, cause unknown.  
USN combatant attacked
In the process of securing the port area, situation arises with SWAT involvement
First Responders must deal with aftermath of mass casualty, to include both medical and ANG responses
Hostages taken and held on Ecuadorian ship terrorist used to gain entry to port
Terrorist Group attempts to exit the base
Unified Command must consider continuing effects of WMD, hostage situation, continued terrorist attacks in the port, and issues of containment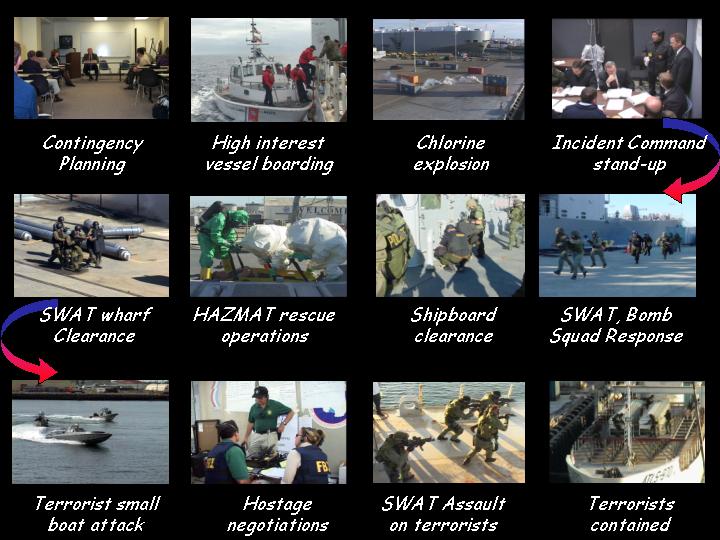 Leave a Reply