Feb.22.2009
1:31 pm
by Ed Beakley
Forty years ago, 3 March 1969, the first TOPGUN class  began "graduate level" fighter pilot education and training at Naval Air Station Miramar at the Fighter Weapons School. They were there because eagles screamed.
They were there because fighter pilots will not accept failure. In 1966 North Vietnamese fighter pilots (flying MiG 17 Frescos and MiG 21 Fishbeds) had accounted for only 3 percent of U.S. air losses. In the first three months of 1968, the MiG pilots now were responsible for 22 percent. The U.S. kill ratio was just about 2 to 1 (Air Force a little below, Navy, a little above) – as compared to the 10 to 1 of WWII and the Korean War – notably the worst ratio in the history of Naval aviation. Air crews were getting killed or becoming Hanoi Hilton residents, missiles and tactics developed to shoot down Russian bombers at long range were useless against an enemy intending to engage at close range coupled with U.S. rules of engagement prohibiting firing until positive ID obtained (which therefore put your aircraft inside the missile launch parameters.)
 Eagles screamed. Sometimes leaders listen and do what they're supposed to do – pay attention to those who've been in the crucible, and then act to take care of their people. This time they did.
Vice Admiral Tom Connolly (Deputy Chief of Naval Operations (Air) and Rear Admiral Bob Townsend (Commander Naval Air Systems Command) together representing both the operational and technical sides, assigned former Commanding Officer of the USS Coral Sea, Captain Frank "Whip" Ault to find out what was wrong. Ault was the right man. His nickname/call sign, "Whip," came from Korean War days as Executive – soon to be Commanding – Officer of VA-55 on USS Essex. He had told his squadron pilots "I can out-drink you, out-fight you, and out-fly you," and there's nothing more obnoxious than a guy who can back up what he says. When being interviewed for consideration to be Executive Officer of the Navy's first nuclear powered aircraft carrier, USS Enterprise, he so outraged the interview game playing Admiral Hyman Rickover, that Rickover called his boss and told him Ault was the most irreverent Naval Officer he'd ever interviewed – but he got the job.
Ault was joined by another fighter pilot, former CO of VF 191 and 124, the F-8 Crusader training squadron, Captain Merle Gorder. By January 1969, they had delivered a report identifying 242 problem areas. Ault stated
… we sent our people out there not trained for dogfighting. We sent the aircraft out there not equipped for dogfighting… and we got into nose-nose combat situations where neither the guy flying the airplane nor the airplane itself had ever fired a missile.  Further, based on the expected nature of air war and our technical developments to intercept bombers at long range, we have lost expertise and continuity in 'being dogfighters' … there is a need to establish a fighter weapons school to reverse this trend and to eliminate aircrew and ground personnel error…
Under Officer-in-Charge LCDR Dan Pedersen they worked and taught out of an old construction site type trailor, coming in at 0430, sleeping in the trailor, researching, writing, lecturing and most of all flying. They teamed with Captain Jim Foster's VX-4 and his project officers like Mugs McKeown (2 MiG kills in 1972) and Tooter Teague (MiG kill in 1972) for access to the highly classified Have Doughnut and Have Drill groups flying the MiG 17 and 21 out in the desert.  They learned to fly like the enemy in his own aircraft and what they learned they passed on over and over again.
Using Thomas (The World is Flat) Friedman's terms, they created a "different context, different narrative, different imagination" and they changed the Navy fighter pilot paradigm.
By January 12, 1973 when the last air-air MiG kill occurred (by TOPGUN graduate Vic Koveleski, VF-161, CAG 5, USS Midway) Navy fighter pilot kill ratio had risen to 15 to 1. Air Force, (had not yet established any higher level training) ratios remained throughout the war at 2 to 1. These statistics helped to create a virtual revolution in air combat training.  They had proven that what had been originally thought to be battlefield Darwinism can be a function of learning.
It is possible to train to the "ace" level without bloodshed
In 1975, the Air Force initiated "Exercise Red Flag," a graduate level air-air course.
Happy 40th
Fly Navy, The BEST Always Have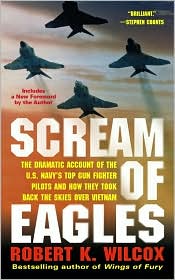 [Article sources: Friends and personal experience 1) while at the Naval Missile Center (NMC) Point Mugu (1970-1971) providing adversary support for Air Test and Evaluation Squadron Four (VX-4); 2) while flying with VA-56 off USS Midway in the Gulf of Tonkin, 1972-73 (MiG killers of VF-161 resided in Ready Room next to VA-56): and 3) Rober K. Wilcox's Scream of Eagles]
TOPGUN today – from Wikipedia:
On 11 July 1996, The Navy Strike and Air Warfare Center (NSAWC) consolidated three commands into a single command structure under a flag officer  to enhance aviation training effectiveness. The Naval Strike Warfare Center (STRIKE "U") based at NAS Fallon since 1984, was joined with the Navy Fighter Weapons School (TOPGUN) and the Carrier Airborne Early Warning Weapons School (TOPDOME) which both moved from NAS Miramar as a result of a Base Realignment and Closure (BRAC) decision in 1993. The Seahawk Weapon School was added in 1998 to provide tactical training for navy helicopters.
Filed in Adaptive Leadership,Fly Navy-100 Years,Intelligence,Intersections,Resilient Community | Comments Off